Honoring Ibis — Local coffee shop wins state's Green Business of the Year Award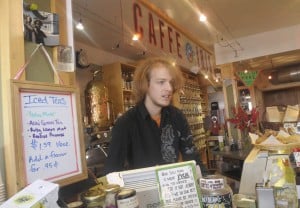 Logan-based coffee brewery Caffe Ibis has been selected as the state winner for the Green Business of the Year Award by an environmental education organization.
Coffee shop owners Sally Sears and Randy Wirth were presented the award at the annual conference of the Utah Society for Environmental Education, or USEE, a statewide umbrella organization and resource for K-12 schools, environmental educators and higher education to encourage environmental literacy.
The Logan-based business that has been a fixture in downtown Logan since 1976 was recognized for its contributions to sustainability and environmental education after it was nominated by the Stokes Nature Center.
"We've never thought of doing business any other way," said Sears. "We're very, very honored (to receive the award). We were surprised, and we're delighted."
Ru Mahoney, a spokesperson for the Nature Center, also cited the couple's contributions to numerous nonprofits in Cache Valley as a factor in nominating Caffe Ibis.
"They go above and beyond; they don't have one area of focus," Mahoney said.
Wirth and Sears' business is thought to be one of the only coffee shops that specializes in triple-certified coffee, which means it's certified organic, fair trade and Smithsonian bird-friendly.
"It sounds impractical as a business model, but it actually does work because most coffee is grown by small-family farms, so we've been keeping an additional premium to keep (the coffee beans) growing that way," Wirth said. "It requires manual on-the-ground inspection. It's a very difficult certification."
The company accepted recyclable materials from the community before Logan city established its own recycling program, and were instrumental in helping to launch the popular Cache Valley Gardeners' Market that connects local farmers with Cache Valley residents May through October.
The deli and coffee shop, at 52 Federal Ave. in downtown Logan, has also been recognized for its historical renovation and creative use of recycled materials in the infrastructure and interior decor. The civic-minded couple reinvest a generous portion of their profits, offering special blends that support everything from multiple Logan nonprofits to a cooperative of women coffee farmers in rural Peru.
The couple attended Utah State University and wanted to find a way to contribute to the community's "beautiful" environment, so they opened Caffe Ibis and quickly became involved with the Stokes Nature Center.
"The Stokes Nature Center has always been important for us to educate young people to get outside and to be a part of nature," Sears said.
Sears and Wirth both give credit for the development of Caffe Ibis to Allen Stokes, one of the founders of the Nature Center.
"The 'Allen test' for us was, 'What would Allen think?'" Sears said, noting that the business continues to compost all produce from deli and coffee grounds. "We really wanted to be judicious and honest and contribute back to the community that we lived in. ... We feel very lucky because every day we can get up and feel good about the business that we're in."
----
Twitter: KevJourno