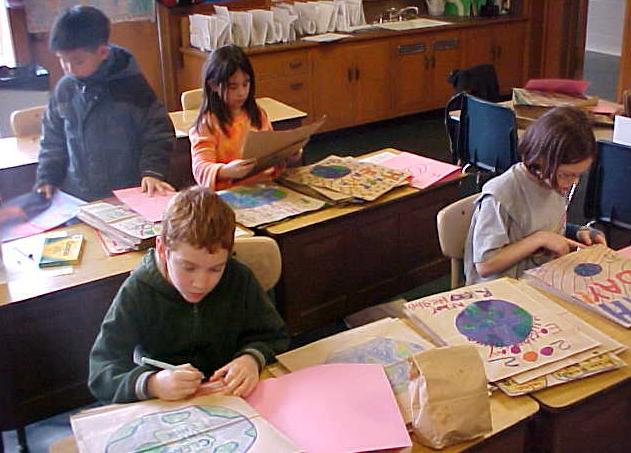 It's that time of year again!
Time to get ready for Earth Day, April 22nd!
Last year, in my first grade classroom, I had to create a community service project for the students to do, and we focused on spreading the word about how to care of the Earth.
The greatest part of the whole Earth Day unit, was the culminating activity we did to get our message out to the community.
We borrowed 500 paper grocery bags from the local Kroger Store, decorated them with our message about how to take care of the earth, and then Kroger used them for their customers on Earth Day.
This project is actually an international Earth Day activity called
Earth Day Bags.
It was fun and easy to do. Any grade, any classroom, any student club or school group can do this! As a matter of fact, I even had the after-school care program at my school make some. You don't need to focus a whole curriculum unit on it like I did, but I know you are going to have a side lesson or two, so why not make it meaningful?
You do not need to decorate 500 bags like I did either. I was originally only planning on 40, two from each student in my classroom, but after announcing the project at the weekly staff meeting, the whole school thought it was a worthwhile experience.
Directions:
Call your local grocery store a couple weeks before Earth Day
Explain that you want to borrow X amount of paper bags, and you will return them with messages drawn by your students.
Return the bags a couple days before, and the store then will pass them out on Earth Day.
Report to the website your school name, the store's name and how many bags you made.
It's that easy!
Last year, the local paper actually took a picture of my class with their bags and mentioned the store where the bags were being passed out. It was great press for the school and the store!
What was even more exciting were the students reactions to their art work and messages being passed out to the local community.
My students and I had a great time with this project last year, I hope you do too!

-Holly